by Glenn Simpson and Peter Fritsch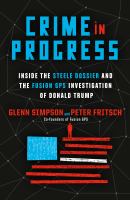 Kirkus
Copyright © Kirkus Reviews, used with permission.

Fusion GPS founders Simpson and Fritsch enumerate the alleged high crimes and misdemeanors that put Donald Trump in the White House.It's clear early on that Fusion GPS, the Washington research and analysis firm headed by former Wall Street Journal staffers Simpson and Fritsch, set itself in opposition to Trump's run for the presidency. "Many of his traits disqualified him for the job," they write, "and his political rhetoric was loathsome, but his ties to the criminal underworld, his reliance on hidden flows of Russian money, and his record of chicanery in business topped the list." Surprisingly, this opposition research was initially funded by a wealthy Republican who was appalled at the prospect of a Trump White House. The Steele dossier soon followed, delivered by a British intelligence agent whose allegations helped limn Trump's ties to organized crime (including a cabal of Russians allied with the old-school Mafia) as well as financial misdeeds, various scams (Trump University, anyone?), and, most damning of all, willing collusion with Russia in interfering with the 2016 election. The authors carefully lay out their evidence, including charges that are only now coming to light, such as the involvement of Republican Congressman Devin Nunes in many of the proceedings as well as fundraising junkets to places such as Boston and Las Vegas, well outside his California district, "during which Nunes spent more than $130,000 on high-end hotels, meals, and NBA tickets, at the expense of his campaign committees." Along the way, Simpson and Fritsch, who do not disguise their scorn for Trump and company, explore such milestones as the Trump Tower meeting between Donald Jr. and various Russian enterprises, which they hold might have been a "chicken feed" operation on the part of Russian intelligence. They also explore some of the flaws in the still-unfolding investigations into Trump, from Robert Mueller's reticence to James Comey's apparent incompetence.Red meat for Trump foes and a convincing denunciation of the Republicans' "win-at-all-costs electoral strategies." Copyright Kirkus Reviews, used with permission.