by Jenny Offill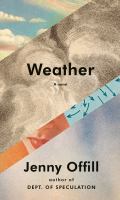 Library Journal
(c) Copyright Library Journals LLC, a wholly owned subsidiary of Media Source, Inc. No redistribution permitted.

Following the New York Times best-booked Dept. of Speculation and Last Things, a finalist for the Los Angeles Times First Book Award, Offill introduces us to Lizzie Benson, a librarian (though not by the traditional route) who's barely able to spend time with her husband and son as she fusses over her devout mother and addict brother. An old mentor wants Lizzie to help her answer mail she's been receiving in response to her podcast Hell and High Water, and eventually Lizzie must look to the larger world and recognize that she can't save everyone—though she keeps trying.
---
Publishers Weekly
(c) Copyright PWxyz, LLC. All rights reserved

A librarian becomes increasingly obsessed with doomsday preparations in Offill's excellently sardonic third novel (following Dept. of Speculation). Lizzie, a university librarian working in Brooklyn, already feels overwhelmed with guiding her son, Eli, through New York City's crowded elementary school system without the extra strain of dealing with her addict brother's constant crises. Mostly happily married to a computer game designer, Lizzie introduces anxiety into her marriage when she takes a second job answering emails for a former mentor who is now the host of a popular podcast about futurism. Fielding questions from both apocalypse truthers and preppers for the coming climate-induced "scarcity," Lizzies becomes convinced that doomsday is approaching. Her scattered, frenzied voice is studded with arresting flourishes, as when she describes releasing a fly: "Quiet in the cup. Hard to believe that isn't joy, the way it flies away when I fling it out the window." Set against the backdrop of Lizzie's trips to meditation classes, debates with a taxi driver, the 2016 presidential election, and constant attempts to avoid a haughty parent at Eli's school, Lizzie's apocalyptic worries are bittersweet, but also always wry and wise. Offill offers an acerbic observer with a wide-ranging mind in this marvelous novel. (Feb.)
---
Kirkus
Copyright © Kirkus Reviews, used with permission.

An ever growing list of worries, from a brother with drug problems to a climate change apocalypse, dances through the lively mind of a university librarian.In its clever and seductive replication of the inner monologue of a woman living in this particular moment in history, Offill's (Dept. of Speculation, 2014, etc.) third novel might be thought of as a more laconic cousin of Lucy Ellmann's Ducks, Newburyport. Here, the mind we're embedded in is that of a librarian named Lizziean entertaining vantage point despite her concerns big and small. There's the lady with the bullhorn who won't let her walk her sensitive young son into his school building. Her brother, who has finally gotten off drugs and has a new girlfriend but still requires her constant, almost hourly, support. Her mentor, Sylvia, a national expert on climate change, who is fed up with her fans and wants Lizzie to take over answering her mail. ("These people long for immortality, but can't wait ten minutes for a cup of coffee," says Sylvia.) "Malodorous," "Defacing," "Combative," "Humming," "Lonely": These are just a few of the categories in a pamphlet called Dealing With Problem Patrons that Lizzie's been given at work, Also, her knee hurts, and she's spending a fortune on car service because she fears she's Mr. Jimmy's only customer. Then there are the complex mixed messages of a cable show she can't stop watching: Extreme Shopper. Her husband, Ben, a video game designer and a very kind man, is getting a bit exasperated. As the new president is elected and the climate change questions pour in and the doomsday scenarios pile up, Lizzie tries to hold it together. The tension between mundane daily concerns and looming apocalypse, the "weather" of our days both real and metaphorical, is perfectly captured in Offill's brief, elegant paragraphs, filled with insight and humor.Offill is good company for the end of the world. Copyright Kirkus Reviews, used with permission.