by André Aciman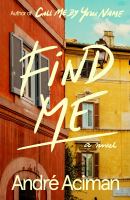 Publishers Weekly
(c) Copyright PWxyz, LLC. All rights reserved

The elegant sequel to Aciman's celebrated first novel, Call Me by Your Name, revisits his best-known characters some 20 years later. The story opens as Samuel, a classics professor who has abandoned hope of love, boards the train from Florence to Rome to visit his pianist son, Elio, the earlier novel's narrator. On the train, Samuel strikes up a conversation with a beautiful photographer named Miranda, an American expatriate like him, though she's half his age. In dialogue that quickly turns searching, they sense in each other a soul mate ("I've known you for less than an hour on a train. Yet you totally understand me"); later that day, once they arrive in Rome, they begin planning new lives together. Several years later, Elio has moved to Paris. He begins a satisfying relationship with Michael, an attorney two decades or so his senior, but Elio's memories of Oliver, whom he loved and lost as a teen, reawaken. A third segment focuses on Oliver, now a married father yet unable to leave the past and its passion behind, before Elio and Oliver meet again in the novel's brief coda. Elio is the heart of the novel, as its core themes—including fatherhood, music, the nature of time and fate, the weight and promise of the past—are infused with eroticism, nostalgia and tenderness in fluid prose. The novel again demonstrates Aciman's capacity to fuse the sensual and the cerebral in stories that touch the heart. Agent: Lynn Nesbit, Janklow & Nesbit Associates. (Oct.)
---
Kirkus
Copyright © Kirkus Reviews, used with permission.

Aciman (Eight White Nights, 2010, etc.) picks up the storyline of his best-known novel to trace the lives of its actors 20 years on.In Aciman's breakthrough novel, Call Me By Your Name, the young protagonist, Elio, is reassured by his father that there's no wrong or shame in loving another manin this instance, a visiting American named Oliver. In this sequel, Sami, the father, is the man freshly in love, 10 years later. Southbound for Rome on a train that takes forever to arrive, he falls into easy, sometimes-teasing conversation with young Miranda, who cuts to the chase after a few dozen pages by saying, "When was the last time you were with a girl my age who's not exactly ugly and who is desperately trying to tell you something that should have been quite obvious by now." Indeed, and love blossoms, complete with intellectual repartee with Miranda's bookish, sophisticated father. Fathers indeed loom large in Aciman's tale: Though sometimes far from the scene, they reverberate, as with the father of Michel, an older man to whom Elio becomes attached in the second part of the novel. Does he miss his late father, Elio asks, to which Michel replies, "Miss him? Not really. Maybe because, unlike my mother who died eight years ago, he never really died for me. He's just absent." Of a philosophical bent, Michel ponders wisely on the differences between his younger and older selves, prompting Elio to recall his one great love. Somehow, perhaps not entirely believably, Oliver, well established back home in the States, receives that brainwave ("It's me, isn't it, it's me you're looking for"), for, with quiet regrets, he ends a long marriage and makes his way back into the pastthe future, that isto find Elio once again. Aciman blends assuredly mature themes with deep learning in which the likes of Bach and Cavafy and several languages grace the proceedings, and his story is touching without being sentimental even if some of it is too neatly inevitable.An elegant, memorable story of enduring love across the generations. Copyright Kirkus Reviews, used with permission.
---
Book list
From Booklist, Copyright © American Library Association. Used with permission.

Set some 20 years after Aciman's novel Call Me by Your Name (2007), the inspiration for the acclaimed motion picture of the same title, this sometimes-elegiac sequel finds Elio now a celebrated classical pianist and Oliver an academic. To find out more about them, readers will have to be patient, though, for nearly the first half of the novel is given to Samuel, Elio's father, who meets a young woman half his age on a train from Florence to Rome, and the two quickly fall in love. Their relationship is echoed in the second of the novel's four movements in Elio's meeting a man, Michel, twice his age and falling in love. When we meet Oliver, he is hosting a party at his New York apartment. At the party are two young people, Paul and Erica, with whom Oliver is infatuated. Their leaving the party is an invitation for his melancholy meditation on love and the past, and it turns out that Oliver has been miserable for 20 years over his breakup with Elio, even though he was the one who ended the relationship. Will he have the inclination and energy to act on this? Call Me By Your Name was widely praised for its treatment of the nature of love, a theme that Find Me continues with subtlety and grace. Its treatment of the characters' psychology is astute and insightful, but what will ultimately drive reader interest is the question of whether star-crossed lovers Elio and Oliver will reunite. One can only hope.--Michael Cart Copyright 2010 Booklist
---
Library Journal
(c) Copyright Library Journals LLC, a wholly owned subsidiary of Media Source, Inc. No redistribution permitted.

Love in all its sublime iterations is at the heart of Aciman's incandescent sequel to the acclaimed Call Me by Your Name. It's been ten years since the heartbreaking end to the passionate summertime affair between 17-year-old piano prodigy Elio and his father's protégé, Oliver, an American graduate student living with them in Italy. Now Elio resides in Rome, visited frequently by his father, Samuel. The two languidly walk the streets, revisiting places that have been meaningful to each and eventually sharing these vigils with new lovers. In sensuous prose, Aciman creates honest relationships unfettered by age, gender, or time, perfectly capturing that initial hesitancy one experiences when embarking upon an intimate liaison. The joy and mystery of music, so wondrously described that you can hear it, features prominently in the story when Elio bonds with Michel, whom he meets at a chamber concert in Paris. Though Elio and Michel care deeply for each other, readers will wonder if Elio can ever forget his first love and whether Oliver, a married professor with two children, will ever find his way back to Elio. VERDICT Aciman gifts readers with a beautiful 21st-century romance that reflects on the remembrance of things past and the courage to embrace the future. Highly recommended. [See Prepub Alert, 5/5/19.]—Sally Bissell, formerly with Lee Cty. Lib. Syst., Fort Myers, FL
---
Library Journal
(c) Copyright Library Journals LLC, a wholly owned subsidiary of Media Source, Inc. No redistribution permitted.

Published in 2007, Aciman's Call Me by Your Name has since sold nearly three quarters of a million copies and inspired an Academy Award-winning film starring Timothée Chalamet as the young Elio and Armie Hammer as Oliver, the graduate student with whom he falls in love. Here, Elio's father has a life-changing encounter as he travels to Rome to visit Elio, now a classical pianist, and New England college professor Oliver suddenly misses life across the Atlantic.